56 FEET YACHT RENTAL DUBAI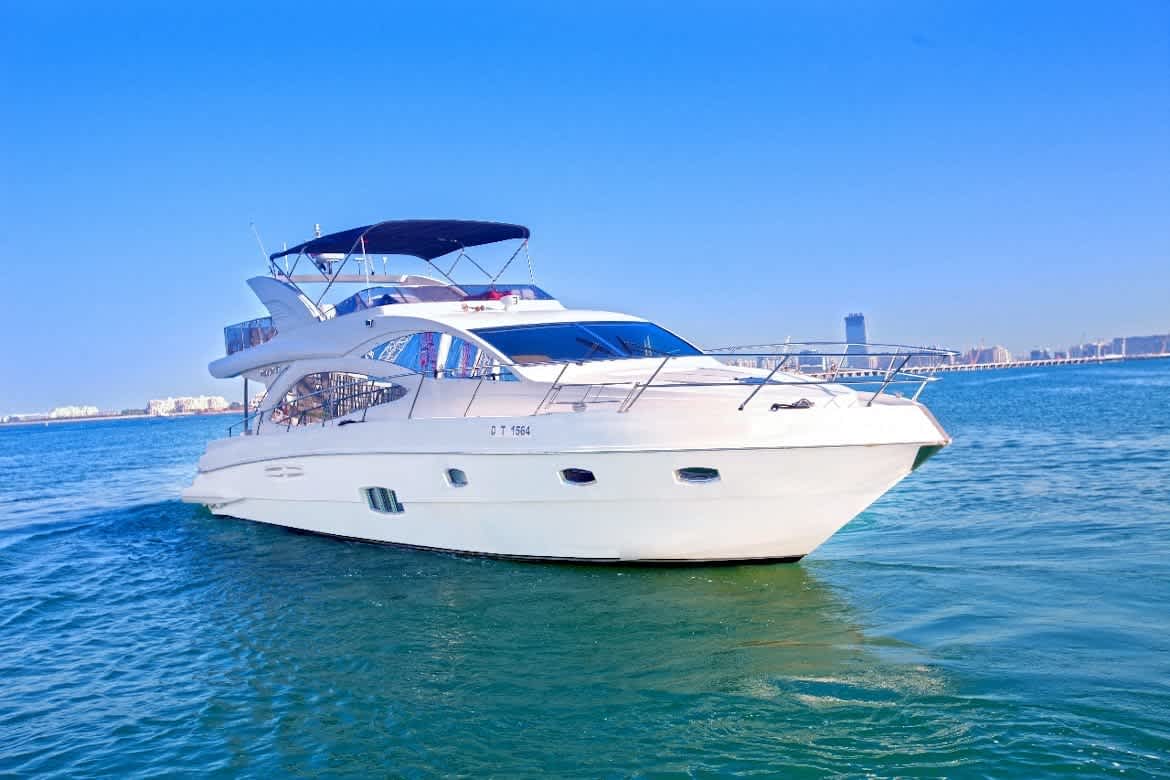 Capacity : 25 Guests
Duration : Minimum 2 Hours
Cruise Route : Marina Canal, Jbr, Ain Dubai, Palm, Skydive, Atlantis, Sheikh Island, Burj Al-arab
Crew : 1 Captain, 2 Crew
Facilities : Music System, Safety Equipment, Fly Deck, Sundeck, Master Bedroom, 2 Bedrooms, Washroom, Shower, AC Lounge, Spacious Saloon, Kitchen, Swimming Platform
Amenities : Mineral Water, Ice & Cooler Box, Towels, Microwave, Refridgerator, BBQ Station, Cutlery & Crockery
On Request : Fishing Equipment, Water Sports Activities, Exclusive Cuisine, Live BBQ Onboard, Beverage Packages, Decorations, Entertainment, Transportation
56ft luxury yacht is best to accommodate 25 people. The richness of this yacht makes it one of the best luxury yachts in Dubai marina. It has a good interior decoration to make every single moment memorable for our guests and give a classic appearance.
Along with the richness, you also get the best hospitality from our service crew members. Nanje yachts provide the best yacht rental service with 100% quality in service at an affordable rate.
Looking for the ultimate luxury and adventure on the waters of Dubai? Look no further than Nanje Yachts, offering their highly sought-after 56 feet yacht rental in Dubai. With Nanje Yachts, you'll experience unforgettable holidays filled with excitement and relaxation aboard one of the most exclusive vessels available. This beautiful yacht is equipped with all state-of-the-art amenities expected from a top-tier yachting provider, including multiple comfortable cabins to accommodate guests even when spending nights at sea. And while exploring stunning views around Dubai City's coastline or admiring spectacular sunsets in the horizon, our expert crew ensures maximum comfort and safety during your voyage. Trust us to craft an unparalleled experience that will leave you exhilarated every time you board our vessel – whether it's for whale watching experiences or simply cruising along serene waters at night under starlit skies – we have something unique that guarantees unforgettable moments for a lifetime!
Booking a yacht rental in Dubai is now easy & effortless. To help our loyal customers in choosing the best suitable yacht, we have 24×7 expert customer support available. All you have to do is simply fill out the form, WhatsApp, or have a chat with us on the website. Our service executive will be helping you with yacht booking procedures. However, a general booking guideline is as follows:
You can choose any option above: Fill up the Form, Whatsapp or Call Us.

One of our service executives will be assigned to assist you.

He will help you regarding choosing the yacht, availability, price details and ongoing offers.