Yacht tour or chartering is the practice of renting or chartering a sailboat or motor yacht and travelling to various coastal or island destinations for business or vacation Nanje Yachts is an award winning #1 yacht rental company in Dubai for all your personal and business needs.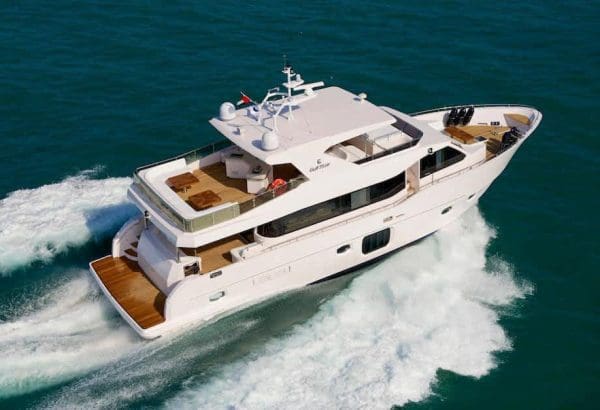 75 Feet/ Up to 35 People/ Cabin / Fly Deck / Sundeck / Saloon / Kitchen / Bedrooms
How can you experience the most captivating view of Dubai? Is it from a drone, helicopter, or on land? According to experts, the best view of the magnificent man-made island can be witnessed from a yacht or charter. Are you ready to set sail across Dubai Marina on a luxurious yacht? Look no further. At Nanje Yachts, we specialize in providing guests with an unforgettable sailing experience through our wide selection of luxury yacht tours at Dubai Marina.
What Sets Nanje Yachts Apart?
When it comes to finding the perfect charter yacht rental in Dubai that fits your budget, our experienced Customer Support Team is available 24/7, 365 days a year. They are well-equipped to handle any query and assist you in selecting the best luxury yacht rental in Dubai from our impressive fleet of yachts and luxury boats. Our yachts can host a variety of events, including corporate events, family parties, wedding ceremonies, water sports, and more. We pride ourselves on providing the best facilities and ensuring a hassle-free booking and payment process.
MEMORABLE Dubai Yacht Tour
Our team is dedicated to making your stay on our luxury yacht in Dubai Marina truly memorable. Whether it's a dream come true for your family members or friends, we cater to various events, from baby warming ceremonies to retirement celebrations. Don't wait any longer! Let your loved ones or company employees celebrate life's milestones on our luxury yacht rental in Dubai.
EVENT YACHTS WITH CATERING
We offer reasonable fees for hosting birthday parties or any major event of your choice on our yachts, accommodating anywhere from ten to a hundred guests. Our professional team ensures that your guests are well taken care of in a friendly manner. Don't miss out on a life-changing experience with the top yacht charter company in Dubai.
However, we kindly request that if you have a larger number of guests and require additional services such as a DJ and other extravagances, please let our customer team assist you in choosing the perfect luxury charter boat rental in Dubai that fits your budget. They can help you plan the menu, music, and games, providing expert suggestions tailored to your preferences. Booking a yacht or luxury boat from our fleet is easy, as all options are listed on our website.
We prioritize your security and privacy, guaranteeing one hundred percent safety throughout your yacht experience. Our venue offers unparalleled security measures that you won't find anywhere else in the world. Rest assured, your event will be memorable and cherished for a lifetime.
Lastly, remember to bring your favorite camera to capture your guest's joyful moments aboard our luxury yacht.